Referral Rewards earned through our NEW Referral Program on or after 12/19/19 are applied automatically to your subscription. You do not need to do anything further.
Earned a reward through our previous program?
If you have received a referral reward under our old referral system (And received a discount code reading: THANKS-XXXXX), you may add this discount code to an active subscription by entering it into the "Enter Discount Code" option in your customer account under subscription preferences. Under our new referral system, rewards earned for qualified referrals will be automatically applied to your account.
Please note that all previously received codes must be entered into your account no later than January 31st, 2020. After this time, our old referral system will be inaccessible and discount codes earned through our old referral program will no longer be accepted by the system.
To enter a previously earned reward code into your active subscription:
From your account dashboard, enter your coupon code in the box marked "Enter Discount Code"

Click "Check." This will prompt the system to see if you have redeemed this code already or if it is invalid.
If you have entered a valid code, an alert will display at the top of your dashboard confirming that your code was successfully applied.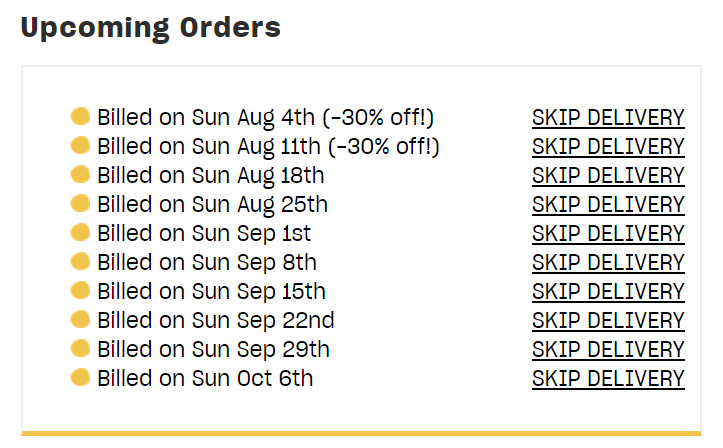 Towards the bottom of your account dashboard, you will see the % off being applied to your upcoming orders. Codes which are entered will apply in order to your upcoming subscription boxes. If you have earned reward codes for different percentages, the highest reward codes will be applied first.
Please note: entering discount codes into your account will apply them to upcoming subscription boxes in your subscription. They will not apply retroactively to previous orders which have already processed.
For more information on our referral program, please visit our Referral Program FAQ Page.